Matrix2png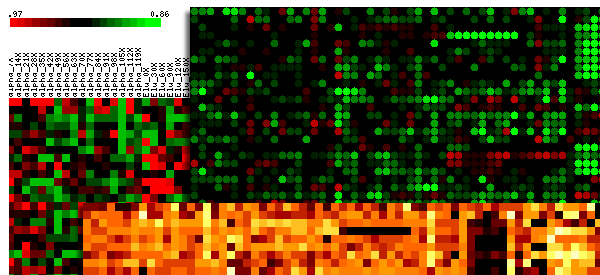 Matrix2png is a simple but powerful program for making visualizations of microarray data and many other data types. It generates PNG formatted images from text files of data. It is fast, easy to use, and reasonably flexible. It can be used to generate publication-quality images, or to act as a image generator for web applications. Our group has found it useful for imaging all kinds of matrix-based data, not just microarray data.
The current version of matrix2png is 1.2.3 (February 2023). See the version history here
Features
PNG output only.
Simple UNIX command line interface. Has been tested under Linux and Solaris.
Uses a simple text format to import data.
Set range, contrast, outlier trimming.
Generates scale bars, row labels, and column labels.
Use rectangles or ellipses.
Convenient color selection from a preset palette as well as popular color maps.
Can handle missing values and data in the form of discrete (categorical) values
Web interface to matrix2png
Follow this link to use a simple web interface to matrix2png with your own data files.
Download
Please visit the project GitHub page for source code.
Documentation
NOTE! Matrix2png generates PNG (portable network graphics), not gifs or jpegs. The PNG format is supported by the major web browsers as well as image processing software such as Adobe Photoshop, Macromedia Fireworks, etc. Read about the PNG format here. For many users, the web interface to matrix2png will suffice. If you want to install and use matrix2png on your system, see INSTALL file in the project GitHub page.
How to cite matrix2png
If you use images created with matrix2png for publication or presentation, please cite:

Pavlidis, P. and Noble W.S. (2003) Matrix2png: A Utility for Visualizing Matrix Data. Bioinformatics 19: 295-296 (abstract).
Readers of the Bioinformatics application note: Here is the color version of the figure from the paper (pdf format).
Credits
Matrix2png was written by Paul Pavlidis. It uses some code provided by William Noble and a command line parser written by Tim Bailey, as well as heavy use of the excellent gd library written by Tom Boutell. Thanks to Richard Easther and Mike Lowenstein for assistance with Macintosh binaries.
Some sample images were created using data from the Stanford Genomics Resources Web site.
Contact
Send bug reports and feature requests to pavlab-support@msl.ubc.ca.